I'm one of those weird people who really like stationary: pens, pencils, notebooks, binders, the whole nine yards. When I was younger I used to do a lot of writing and because it was well before modern computing that meant I had to use pens and notebooks. Sometimes I'd write stories, sometimes I'd design and write RPGs (we didn't need a Kickstarter to get creative back then) so I had tons of spiral bound notebooks lying around. If I wanted to get real fancy, I'd use a three-ring binder with dividers for writing paragraphs, graph paper for maps, and pocket folders for storing things like reference materials or character sheets. It was a less complicated time.
Now, though, the game has changed. I still love stationary for some wacky reason, but we're in a post-paper society now. It's considered gauche to have stacks of notebooks lying around, filled with writings that might have been one-off notes that had to be taken when recording an appointment, or which might be several pages of a great story idea that had to be recorded lest it be forgotten. Despite evidence to the contrary, I'm not always in front of the computer, and besides, a keyboard is good for long-term writing (like these posts!) but is complete overkill for occasional note taking.
I have long since been on a quest to find a decent way to take notes without paper. Thankfully, there are many options, and the choices are limited only by budget and feature set. My original stab was to pick up a first generation Microsoft Surface. This oblong proto-computer ran a flavor of Windows that could, technically, run everything I could run on my desktop PC. In practice, that wasn't completely true thanks to a limited hardware set and the odd aspect ratio of the screen. But it had a pen, and that allowed me to use OneNote to write in a natural way, and to sync those notes with my computer so I could have them where and when I needed them. Unfortunately the form factor of the device, and it's overall weight, made the Surface impractical and it's first-gen status didn't do it any favors either.
I then moved on to an iPad, the first of the smaller generation that supported the Apple Pencil. My daughter had gotten an iPad Pro not too long before this, and I was suitably impressed with its capabilities and performance, but there were two mitigating factors in obtaining one myself. First was the price; the tablet plus the premium stylus put the Pro at close to $1000USD, and I couldn't justify spending that kind of money for taking notes. "Sure, but," you say, "the iPad does a whole lot more!" That is true, but the second roadblock was that we are not an Apple house. I wasn't looking for a gateway into the Apple ecosystem, I was not a tablet gamer, and all of the iPad-to-Mac pipeline features were basically deadweight that I couldn't utilize. When Apple released a smaller tablet that also supported the Pencil, I figured that with the price now somewhere around $500USD all told, taking a detour into Apple Country might not be so bad. Ultimately, the iPad worked very well for taking notes with both OneNote and other iPad specific applications available. The other uses of the device still eluded me: I'm still not a mobile gamer, don't use the Apple universe of integrated apps, and therefor otherwise used it to browse the web. Like the Surface, though, the iPad was a bit hefty, and it's pretty obvious that the device still adheres to Steve Job's violent rejection of using a stylus with the device as the screen is glass-smooth which is fine for dragging your meat-stick of a finger around, but is garbage for that psychological feel of using a stylus to write.
Being at home, now, I am not entirely sure if I need to have a note taking solution like I convinced myself I did when I was going into the office. Despite being an application developer, I still have a great need to write stuff down. When in a meeting, I prefer to not have to disconnect my laptop and drag it with me, knowing that everyone else in the meeting is going to be doing the same, fighting over limited power cables, having issues connecting to projectors, and the whole mess of minor yet irritating technological troubles that is typical of corporate America. I prefer to just bring a notepad and pen and take notes; if I need to show something, I'll simply command someone else to do it. I'm still taking notes at home, but I've been lucky enough to have only filled about 3/4 of a notebook as of the time of this post.
To that end, I've been looking into e-ink tablets, which is both a kind of step backwards, technology-wise, but also a step ahead since I don't think anyone expected e-ink to be as interactive as some of these devices have proven to be. I only really know about these thanks to Instagram, who slipped some ads into my normal feed of stupid memes and uplifting stories of human nature. At first I was curious, but now that the All Seeing Algorithm wants me to see ads, news stories and reviews, and videos concerning "the best e-ink tablets!", I guess this is something I should look into.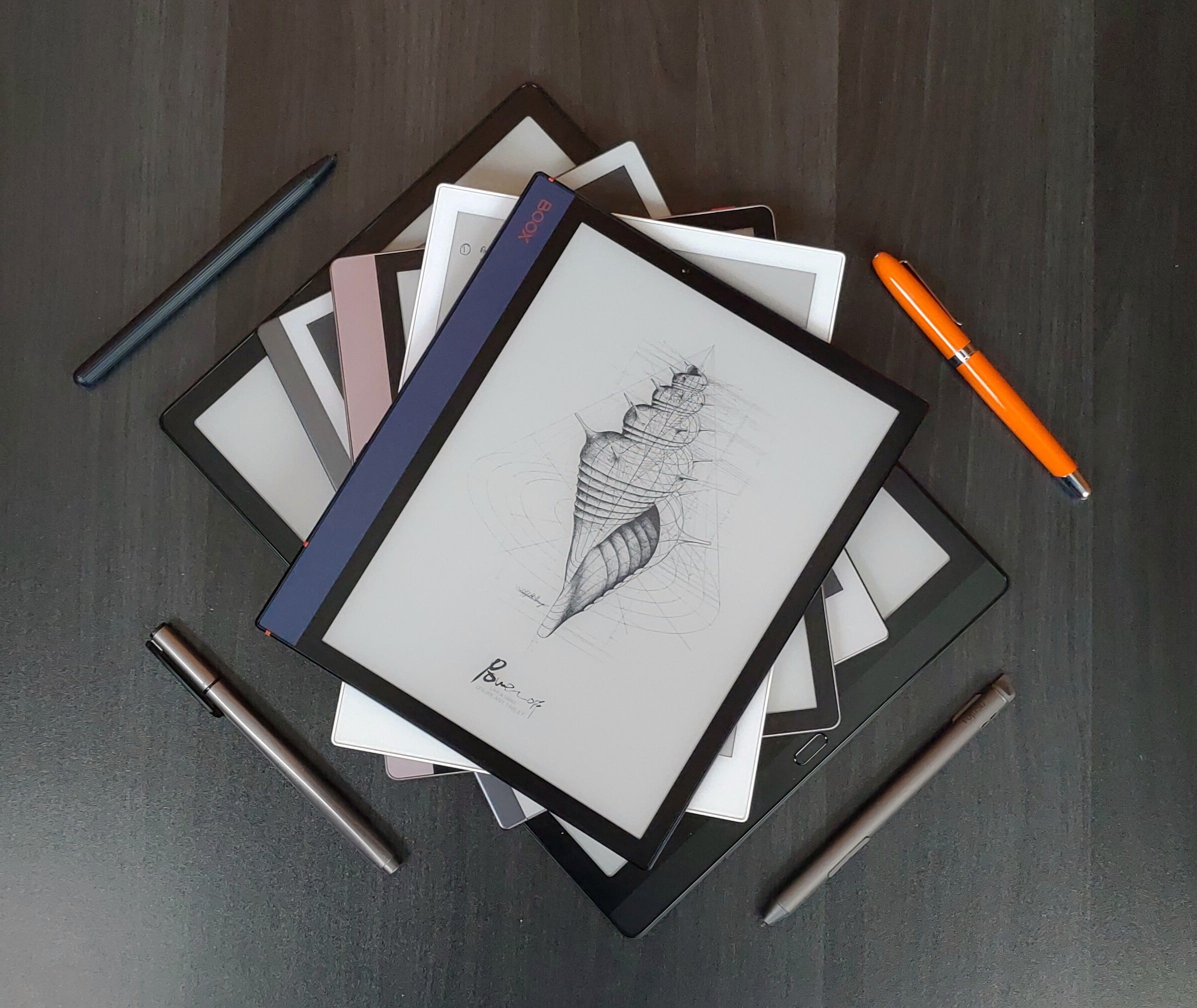 E-ink is a pretty cool technology in that it's an electrified Etch-a-Sketch. It uses magnetic fibers to display content, which means that the dust inside the device is small enough to render an e-book at a normal printed point size. Because of the [hand-wave] magical properties of this magnetic system, the display remains until it's re-drawn or turned off, and uses little to no power in between. That allows an e-ink device to run for days or even weeks without recharging.
The downside is that as far as tablets go, it's not good for fast re-renders, so video is pretty much a no-go. It's also usually reserved for black and white (and some shades of grey) rendering. If you do see an image, it's going to be at a pretty low fidelity, and sans color. Finally, although it's not a super negative feature, sometimes repainting the display can lag while the magnetic contents realign themselves to erase the previous display and set up a new one. When reading a book this isn't going to be significant game-breaker, but when we're talking about writing or drawing, and navigating between pages of custom content, it could be.
I've been focusing on the reMarkable 2 which seems to be the mind-share leader in the note-taking e-ink space. It's a 10.2″ tablet with serviceable software that allows for writing and sketching as well as the standard e-book and PDF reading and annotation. Content can be sync'd between a mobile or desktop device, and also to Dropbox (the service that lives on only because services like these keep relying on them, it seems). Every review I've read or watched so far loves this device for note taking, and some for sketching, although the pain points include price (~$600USD with all the bells and whistles) for what you get, and no back-lighting, so forget about using it from bed unless you have a side lamp.
There's also the Onyx series of devices, which are far too numerous to list or describe here. Of interest are the Note 3, the MAX Lumi, the Note Air, and the Nova 3 Color. Reviews for these are kind of all over the place. When reviewed alone, these devices hold up well, but when compared to the reMarkable, the Boox series always seem to come in second. Still, the Note Air starts at $455USD, while the MAX Lumi can be had starting at $879USD (both before accessories). In searching for the below image, I learned that the Boox Nova 3 can be had from AliExpress for $319USD, which isn't bad at all, but I'm looking for the 10.2″ form, whereas the Nova 3 is only 7.8″.
There are others, of course, but finding them is a bit difficult. It's a niche device (e-ink note-taker) in an increasingly niche market (e-ink devices). iPads and Android tablets take the defacto mind-share whenever someone's talking about "tablets for taking notes", and in some cases can be had for a lot less than a fully kitted-out e-ink tablet. The pull for me is that these devices do one thing, and apparently do it well, which is "take notes" (more or less). They're exceedingly light and thin, much more so than the thinnest and lightest iPad or Android device. While their software and mechanisms tend to be stuck in the early 2000's, I can overlook that when I consider that my prime alternative is to keep using notebook after paper notebook, which has absolutely zero online sharing and zero additional features.