I have seen exactly zero people in my timelines talking about this, so I guess the onus falls to me.
Nintendo is really hung up on peripherals and has been since they started making video games. In theory, these add-ons are added-value, but the consumer quickly learns that a peripheral is only as good as its support…and support for peripherals across all console platforms has historically been painfully anemic.
Ring Fit Adventures ships with the game and two hardware items: a strap that you can wrap around your left thigh and which allows you to attach one of the Joy-Cons to yourself, and the eponymous ring. This bit of plastic is about the size of a serving platter and has two padded grips on either side with an attachment for the other Joy-Con on the top.
When you start the game for the first time, you are pushed through a rather lengthy "getting to know you" segment which asks for demographics such as age, weight, gender, how much exercise you normally get, and exactly how hard you want to work. You can then opt to play the game or just exercise using over 40 different guided motions centering around the ring and the leg strap. As a note, if you have multiple profiles on your Switch, you can use them with this game, but you don't get to select which profile to use until you start the game, not before.
The control scheme is pretty simple. Because the Joy-Cons are motion-sensitive, running in place or moving your left leg can be detected as input. The ring controller is used by rotating it like a steering wheel, or by pressing inward (the default mode to make selections) or pulling outward. The ring can also be detected in a vertical (default) or horizontal position (or maybe the transitional motion is what's detected, I don't know). Using the light sensor in the ring Joy-Con, the game will occasionally check your pulse which is kind of cool.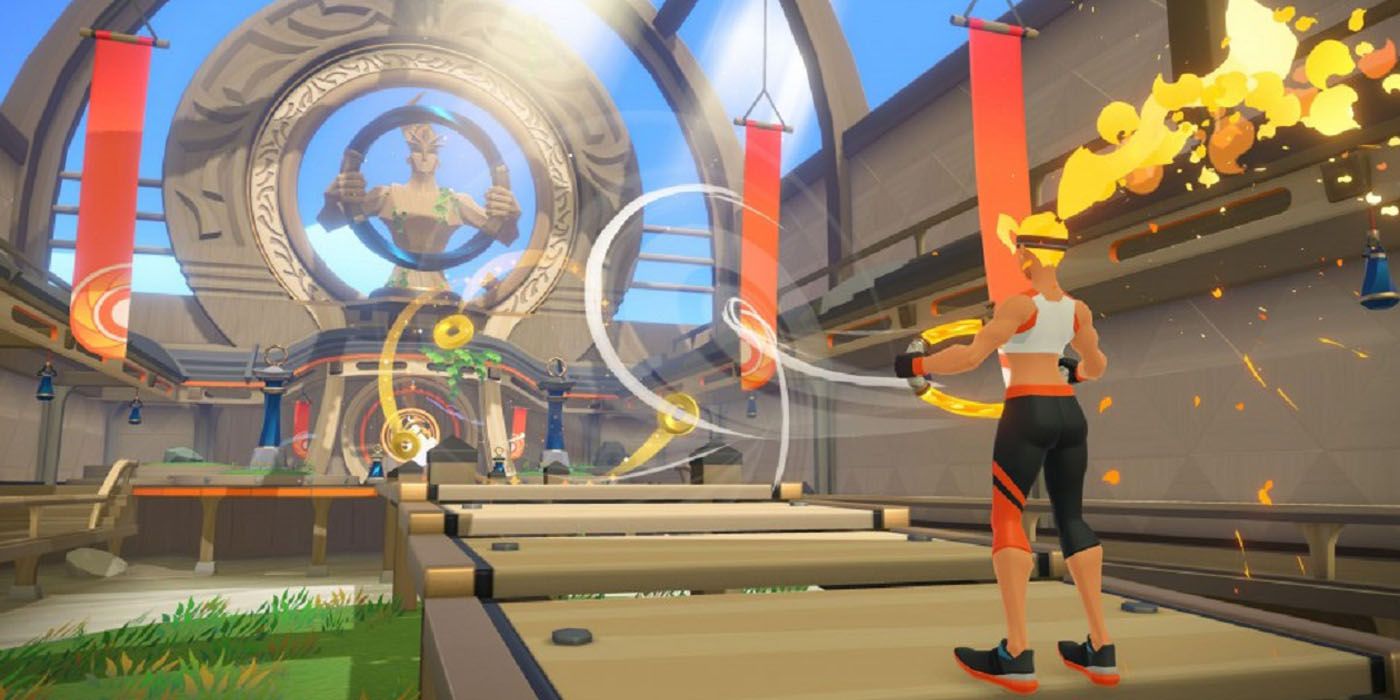 My wife and I played through the first three zones of the first level the other night. Neither of us gets much exercise, so we set the bar pretty damn low I'm ashamed to say. Still, these first three zones kind of kicked my ass. I blame my obscene out-of-shapeness, so I really can't speak to the actual difficulty of the game at the level I had it set at.
The story behind the game is more or less irrelevant and — to be honest — kind of silly in that "how can we make the game world jive with a fitness theme?" kind of way. You navigate in the form of an "endless runner": you move forward by jogging in place (this is what killed me because I tend to move at an amble, not a jog). Along the way, you collect coins either by running through them or by using the ring in one of two modes. Squeezing the ring inward will fire off a burst of air, and pulling the ring outward will vacuum up coins that are difficult to reach. You can also aim the ring downward and when you squeeze inward, you can jump and use the air burst to float over gaps.
Every once in a while during this endless run, you'll encounter enemies. This turns into a kind of Pokemon-style battle, but instead of choosing an attack, you choose an exercise. Initially, you have only a few, like squats or leg lifts or a certain yoga pose, but as you defeat enemies and finish levels, you gain XP which helps you level up and unlock other exercises you can perform. It usually takes a few "attacks" to defeat an enemy, and each exercise has a cooldown so you can't just take the easiest one all the time. You defend against enemy attacks by squeezing the ring horizontally against your stomachs, providing resistance to your abs. It even manifests on screen as an "ab shield" when you do this. You have a life meter that seems to always take a hit even when defending, and when you lose all of your hearts, you are sent back in the level to retry the encounter.
Honestly, this system seems far more involved, and far more useful, than Wii Fit ever was. If the game relied only on the motion of the Joy-Cons as Wii Fit did, then I'd say that Ring Fit Adventure (under a different name, obviously) would be pointless. That they included a resistance workout using the ring is pretty good; the resistance seems manageable at first, but when you have to hold the squeeze or pull it starts to get more difficult. More importantly, though, is that they've moved towards a more involved participatory model by requiring you to physically run in place in order to get your avatar to move through the world. Even if this game only required that you run in place to move your character, it'd still be a pretty good impetus to get off the couch.
I haven't looked into the free exercise options, and I do wonder about the long-term involvement with the product once the "game" has been completed. As I said, the game is really just a carrot to get you to ignore the stick so replay value depends on how badly you want a structured workout.